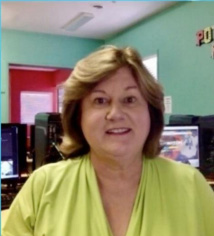 Virtual Annual Meeting October 21, 2020
10:00 am
WPLC Zoom Meetings
Free to members
Organized by White Pine Library Cooperative
---
Dianne Connery is the Library Director of the innovative Pottsboro Area Library in Pottsboro, Texas, a community 80 miles north of Dallas with a population of 2,300 people.  Dianne was a corporate trainer and entrepreneur before moving to this rural community ten years ago. On the verge of closing its doors, she led a group of dedicated volunteers who transformed this library into the vibrant community hub it is today. She is passionate about the role of rural libraries and a huge proponent of digital inclusion.  Dianne will share some of the programs she has initiated, like esports competitive gaming, and how she is getting WIFI to places in need in her community. 
Registration deadline: October 19, 2020

Each Zoom session should last about 1 hour

You will be sent the Zoom link in the registration confirmation.